TRAIL & GREEN LANE TOURS (OFF ROAD) - DETAILS AND DATES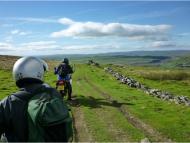 Let us take you down hidden tracks in the superb Yorkshire Dales. We guarantee you will enjoy your trail riding (green laning) experience


MT350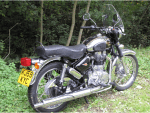 BULLET EFI
TRAIL RIDING (OFF ROAD) DAYS 2017

NEXT TOUR DATES:
Why not buy a tour gift voucher for a great day out for your loved one (or treat yourself).
Tours will take the form of a steady circular route round the dales using minor B roads trails and tracks covering around 130 miles.
Ask about
our £150 GIFT VOUCHER
FOR GUIDED TOURS
includes bike hire and insurance (VAT inc)
The ideal gift - a voucher for a G R E A T day out

01535 630137 or 07974 726688
A typical 'Green Lane' run:
A steady run covering aprox 130 miles of spectacular Dales scenery, ideal for either the beginner or experienced off road rider looking for something a little different. The green lane tour normally consist of a circular route in or around the Wharfedale, Nidderdale, Swaledale, Wensleydale, Dentdale and southern Cumbrian areas of the Dales.
Following the success of our recent Dales Tour and Green Lane run, our reputation is spreading. The recent hire of machines to a group from the land of the amber nectar was a great success, see what they thought of our bikes below ‡.
So if you are thinking of a dales tour green lane run or bike hire in, without question one of the nicest regions in the country, please book now to avoid disappointment.
---
Customers said about our tours:

Message

Hi David

9th September 2017

Just a short message to thank you for a very special day out on my 80th Birthday. As I was the only rider on this occasion the one-to-one experience made it unique. As an added bonus I was treated to a sung 'Happy Birthday' by the staff of the Moorcock Inn, Garsdale Head during our lunch break. And it was also a treat to see people's faces as we passed through villages when they saw Scamp in your basket! OK, the weather could have been better as we were subject to heavy showers but what a fantastic way to spend a day in the Dales. And I hadn't ridden a bike for 17 years!

Thanks again, with hope that you continue to provide this unique service for years to come.
With best wishes,
Eric Dale


ENQUIRE ABOUT THE NEXT TOUR

01535 630137 or 07974 726688

---

Message

Hi David

Sat 3rd September 2016

Thank you again for a Fantastic day out .

Your knowledge of lanes and views of the Dales is second to none. And under difficult weather conditions you still gave us a interesting And varied day.

See you again soon ..
Regards Mick

ENQUIRE ABOUT THE NEXT TOUR

01535 630137 or 07974 726688

---

Message

Hello Dave,

Thank you for what was the best day out I have ever had on a motorcycle.

There are many companies out there who offer an \"experience\" day and so many times I have heard of these being a disappointment.

Your tour was just perfect and did exactly what it said on the tin. A genuine experience of the most beautiful places that you would not get to see any other way. Challenging riding tailored to ability and then as our confidence in the machines grew was pushed a little leaving a feeling of accomplishment at the end.

I would recommend this experience to anyone. A first class, 5 star day.

ENQUIRE ABOUT THE NEXT TOUR

01535 630137 or 07974 726688

---

Message

Hi Dave,

Thank you for an absolutely fantastic day out.

I really enjoyed the day from start to finish, the trails selected, the road links between trails and the company. The scenery was awesome and I think the cold clear weather enhanced the experience and the feeling from being in such an area.

There was so much to look at and take in whilst also negotiating the route. Please pass on my thanks to Ian, as riding between the two of you gave me confidence.

I am looking forward to doing this again and will keep in contact. Please find as attached a photo, unfortunately because of the cold, there were not that many photos as my hands preferred my gloves.

Best regards Steve

---

Message

Hi Dave just wanted to thank you again for the fantastic day out last Saturday, Martin has sent me some great pictures of where we went which will be good reminders in the weeks to come, i am a bit stiff at the moment but nothing will dull my memories of my best day out in years.

Thanks for looking after me so well and give an extra treat to Scamp from me, kind regards Terry

---

Message:

Hi Dave and Scamp

Not sure where to start this email!

At 53 I have, over the years, read about motorcyclists who give up their work, sell their houses and take on a round-the-world trip.

I was never one of those! Not having the guts to take the plunge, I just looked at glossy magazines and continued dreaming...until the 13th June 2015.

Having stumbled across your web site by chance, and inspired by the images of the locality, I booked a trail riding day with my daughter's partner Jack (23), who has been riding for 3 years.

We eagerly rode up the day before from Kent, plotted up in a B&B recommended by you (Woodland house), where we were treated like royalty and were only a mere 10 minutes walk away from your workshops.

Saturday morning was upon us and when we entered your establishment it was like going back to the 1970's. An Aladdin's cave that had seen most anything on wheels over the last 40 years.

We were keenly greeted, having soon completed the hire paperwork. Our machines awaited, two mid 1990 MT350's soon burst into life. Whilst warming the engines we were shown around the bikes, which were fitted with Twinduro Continental TCK tyres. Perfect!

The day got better. Mile by mile, minute by minute, breath taking scenery, hamlets, villages, market towns, ancient buildings, memorials; you name it we saw it. Mixing short bursts on A roads, the rest divided up between B routes, unclassified and Green lanes.

All this seamless enjoyment provided by you, a local man who knows the area better than the back of his own hand and whose business is his passion. All served up on 20 year old ex-Army motorcycles which conveyed us comfortably, over all terrain, seated or standing, adding to the atmosphere.

Dave, I cant thank you enough. This was my condensed round the world adventure, the best £150 I remember ever spending.

Hope to see you again for more of the same soon.

PS. Jack will recommend your tour business in a letter to Ride magazine. It would be great if it got featured!!!

Ride safe, take care.

Regards

Keith & Jack.

ENQUIRE ABOUT THE NEXT TOUR

01535 630137 or 07974 726688

---

Message:

From: d.howcroft
To: dctradesales
Sent: Thursday, April 23, 2015 6:09 PM
Subject: Dave's 50 birthday


Ey up Dave


What a day .............I'm still grinning !!


attached is the picture you took of us, not only are you ace at motorcycle tours, you take a great picture as well

---
Message:

Hi Dave

Just thought I would drop you a line to say how much I enjoyed your rideout last Saturday. I've been telling people all week how good it was.

Fabulous day, great weather, nice group of lads & we got to see the fantastic Yorkshire countryside with a good mix of on road & green lane routes. The MT350s are just like 2-wheel Landrovers & can pretty much go anywhere - brilliant.

From the start to the end of the day (quite a long one), any events were managed calmly with no fuss & simply added to the 'adventure'. You made it look easy.

I will certainly be back for another D&C rideout next year - maybe with the same group who knows?

Look forward to seeing you again then

All the best

Dave S

---
Photos from Motorbike tour on Saturday 30 Aug 2014
---
Name:

Ian Kitson landscape architect

Subject:

day tour feedback

Message:

Dear Dave

This is to tell anyone reading this to book your green lane day tour. Because its not that....it\'s much much more: a magical and unique way to see the yorkshire dales......a remarkable journey through different landscapes.....an incredibly knowledgeable guide (thats you !) of both the dales and the skills of motorcycle off roading.....great bikes perfect for the purpose.....and most of all following someone on a motorcycle with a jack russell in a basket in the back for 9 hours makes Grayson Perry and his teddy bear look like an amateur.

Kindest Ian
---
Name:

Alex Crowton

Subject:

Thank you

Message:

Hi Dave, just wanted to drop you a line to extend my most sincere thanks for the most amazing experience of a green lane tour of the Yorkshire Dales last Saturday. I was really impressed with the route, the scenery the bike and your passion for motorcycling - really enjoyed the tour and felt it was excellent value for money with plenty of time spent in the saddle!

I will definitely book onto another trip in the future and will also bring a few mates up from Birmingham to take part in a tour. Will definitely bring a camera next time!

Best wishes,
Alex
---
Sent: Sunday, July 21, 2013 9:32 AM
Subject: Great day last sunday
Hello Dave
Just want to say what a great day we had last Saturday trail riding on the MT350s.
The weather was gorgeous, the trails were fantastic & you & Alan were great company. I saw the Dales from a different view. I even enjoyed doing a couple of on the spot repairs. A very good long day, excellent value too.
Cannot wait to do it again maybe North Yorkshire next time.
Highly recommended.
Many Thanks.

Steve from Rainbow
---
Sent: Sunday, July 21, 2013 9:00 AM
Subject: thanks for a great day Dave

Thanks for taking us out around the dales Dave - great routes, great company. We'll be back, believe you me!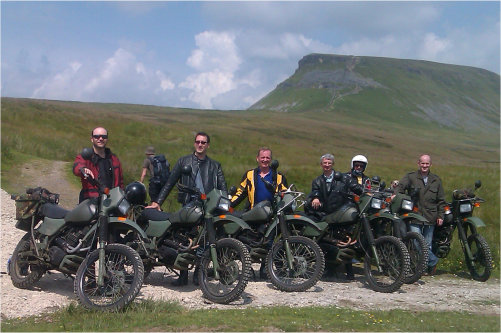 Jonathan Bailey
---
Hi Dave
Have been meaning to do this all week but business is hectic at the moment. Just to say again what a fantastic day I had last Saturday, it really will be one that I remember for a long time to come, in fact, probably till the next time because I will certainly be back for more of the same. Brilliant day and thanks ever so much for your great company.

Regards
Gordon.
---
Hi Dave
Mike just wanted to tell you how much he enjoyed the ride out with you on Saturday. It certainly kept him busy while I was cleaning the holiday cottage and stopped him telling me I was spending too long on it as usual! You picked a good day for it as well.
All the best, Sue
---
Hi Dave
I have not had such a good day for as long as i can remember, it was brilliant, My ankle should be out of plaster in about six weeks!!
Only kidding, i suffered no ill effects and will be back for more, i can,t thank you enough, truly a day to remember, well done, Kind regards Gordon.
ENQUIRE ABOUT THE NEXT TOUR
01535 630137 or 07974 726688
Hi Dave,
Just a quick note to say how much I enjoyed the ride out last Saturday. Not only did you manage to show us sites and views around North Yorkshire that I never even thought existed but along with you local knowledge you really made the day, the photos I got are amazing. Even though Im quite short in the legs the bikes were easy to handle and made the experience all the more pleasurable - Not even the rain in the evening managed to dampen the enjoyment. I look forward to arranging another date soon and will get the photos I took over to you soon.
All the bes, Andy Hart
ENQUIRE ABOUT THE NEXT TOUR
01535 630137 or 07974 726688
Dave,

‡ We are home in Western Australia at last after our time in Yorkshire some time with our kids and grand kids in France. It's good to be back, but we really enjoyed ourselves whilst we were away.

I have to say that the service we received from you at D & C Classic Motor Cycles was above and beyond what would be normally expected. The bikes were very well suited to touring in the dales, they were in fine condition and went very well throughout the week, even if Alexander's did have a mind of her own about starting! Your kindness both on the day we picked them up in the rain (we live in the desert so that was quite a new experience for us) and again when we returned them and Simon needed some advice about his bike was greatly appreciated. We will be back in the future. Thanks again,


Dennis Wade
Carnarvon
Western Australia
ENQUIRE ABOUT THE NEXT TOUR
01535 630137 or 07974 726688
---
Dear Dave,
Sat on the aeroplane making my way down to Brazil, I was just reflecting on the wonderful day out we had last Saturday (9th April 2011) on your Dales / Green Lane tour.
The Harley's were perfect for the job and the organisation of the 10 hour day was impeccable, even to the point of swapping bikes when mine unfortunately punctured with just 20 miles to go from the 180 miles that I calculated that we rode on the day.
We were very lucky with the weather which turned out to be the warmest day of the year so far but even without, the company of the three guys including you, the scenery and route, punctuated by the interesting stop-offs with their local history and watering holes made it a day to remember.
If anyone needs a day away from emails, mobile phones etc, I can't think of a better way to spend some quality time and get some real value for money.
I hope to join you again sometime !
Cheers, Graham
Cheshire
ENQUIRE ABOUT THE NEXT TOUR
01535 630137 or 07974 726688
---
Dear Dave,
Sitting here wading through hundreds of e-mails reminded me to thank you for such an enjoyable time last week-end exploring the Yorkshire Dales on your 2 day guided tour. The Hartley Davidson MT350 ex-Army bikes we hired from you were perfect for the job and the B&B you arranged was of a really high standard.
| | |
| --- | --- |
| | << click for more pictures |
The Dales are stunning as everyone knows but your encyclopaedic knowledge of the area linking up all the little minor byways made the experience unique and is something nobody can work out by simply looking at a map. I was amazed that we hardly ever saw another vehicle on the routes you took us, which was such a contrast to the very busy A roads we encountered occasionally around the tourist "hotspots".
I managed to feel totally relaxed as the thrill of being on the bike made me forget all about the day to day challenges of my normal working life and your organisational skills combined with a natural easy going charm and sense of humour made it an unforgettable break which we will definitely repeat next year. Finally, it was great value for money given the 2 days you spent with us and how easy you made everything – all we had to do was turn up, jump on the bikes and follow you for a "one off" biking adventure. Eat your hearts out Ewan and Charlie!
I look forward to receiving the photos and can't wait for next year
Regards
Giles Kendall
ENQUIRE ABOUT THE NEXT TOUR
01535 630137 or 07974 726688
---
Subject: Thank you for a brilliant day out!

Dear Dave

I would like to say a massive thank you for the brilliant ride out I had on the Dales and Green Lanes trip on 7th August. This will stay in my memory as one of the best day's out I have had. Even though I have always lived not far from the areas we toured around it is amazing to see how many roads and lanes there are to travel on and places to go to. You certainly know the area very well to find all these exciting places to ride around!

I have attached some pictures from our day out for you to see and certainly hope to do another tour with you in the future.

Thanks again

Mike Dickson
ENQUIRE ABOUT THE NEXT TOUR
01535 630137 or 07974 726688
---
Subject: Green laning in the Dales on Ex British Army Harley Davidson Bikes.

Hello Dave

I would like to thank you for a fantastic day out last Saturday 7th August.

I've now lived in Yorkshire for 25 years but never seen the Dales in that way before. You took us to places I'd never seen or even heard of, and what fantastic scenery.

Crosscounty riding was something I always wanted to do and some of those 'Green Lanes' were amazing needing a lot of concentration, determination and grit!
But what a ride. We had 'some rain' but nothing to worry about. It added to the experience.

Some of the places you took us to I found very interesting especially Gardale Station (I enjoyed telling everyone this morning the story about the statue of Ruswarp the dog) and our visit to Tan Hill Inn, (the highest Inn in the country). Good food as well!

The many Dales, rivers and tributary's we passed were beautiful and I must try and find them again sometime. (Maybe another ride?) There is nothing and nowhere to compare with the Yorkshire Dales (God's on Country).Fantastic place and the best way to see it is on a bike, in my opinion.

I was surprised that the Harley Davidson 350 was so comfortable, yet so robust.I enjoyed riding it immensely and the experience of standing up and letting the bike bounce up and down underneath you was one hell of a thrill. The more you did it the easier it got!

Once again, thank you for a great day, I could certainly recommend it to anyone who likes biking, its an experience to remember. With possibly the odd aching muscle the next day, its most certainly worth it.


Kind regards

Roy
ENQUIRE ABOUT THE NEXT TOUR
01535 630137 or 07974 726688
---
Subject: Guided Tour
Hello Dave,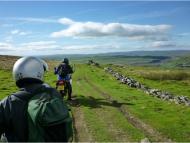 Just a quick note to say how much I enjoyed the ride out on Saturday. Your knowledge of the area was fantastic, as was the scenery. The green lanes were a pleasure to ride on the MT350 and I can't think of a better way to blow away the cobwebs.
Will definiteley be having a return visit.
Cheers, Andy
ENQUIRE ABOUT THE NEXT TOUR
01535 630137 or 07974 726688